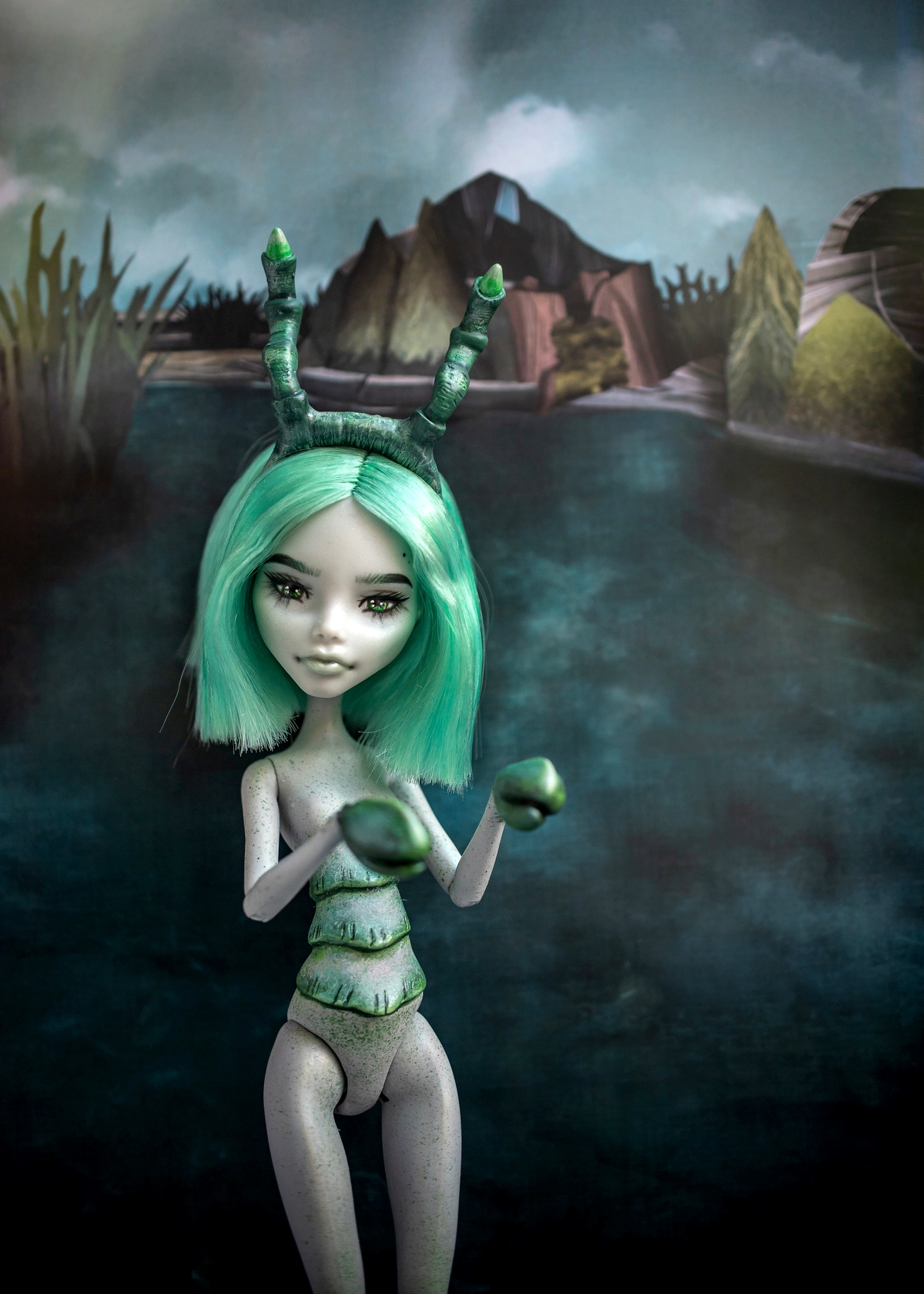 Monster High
Rift Scuttler
I was working with some fellow doll customizers on a collaboration called "Sexy Video Games Characters". We all choose one non-human character from a game and because I mostly play League of Legends, I picked a character from this game. 
I started the customization by choosing the base model, which was Ghoulia Yelps from Monster High. Then I removed the head, and also the hair to prepare the doll for the reroot. I used two green shades of nylon hair to reroot the head.
For the body modifications, I used epoxy clay (this time Milliput). This was the longest part of the customization because after every little modification I had to wait 12-24 hours for the epoxy to cure, then I needed to sand the surface to see my mistakes, then add a little more epoxy, then waiting 12-24 hours again and so on... until I finished the sculpting part. After I modified the body and the hands, I used a spray primer to uniform the color of the body.
To paint the body and the hands, I used gouache colors which I fixed with a clear spray sealant.
To create the antlers I used a headband as a base, so it is removable.
For the new faceup, I used acetone to remove the factory paint, then I used artist-quality pastels and watercolor paint to make the new face. I used UV-cut spray sealant to protect the base doll, and also to seal and protect my work.
Rift Scuttler will arrive nude, but she will bring her antlers, and also the necklace from my photos.
~ Colors may be different in real life due to different computer monitors.
~ Her new style is 100% handmade, so she is not factory-perfect. 
~ She is a piece of art and not a toy! She is not meant for children to play with.